BATTERY/ELECTRICAL CHECK-UP
Electrical Diagnostic
Starting At
$135*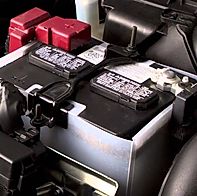 See us for a FREE Battery, Alternator, & Starter check!
We will check the overall condition of your battery and its casing, cable connections, mounting bolts, brackets, and the electrical draw test to ensure the correct amount always needed to start the engine. Also, we will check the Alternator by inspecting the drive belt, mounting brackets, electrical connections, and running a diagnostic charging systems test ensuring that the alternators current and voltage are to spec.

It's not something we would call fun to go to your car, start it, and BAM… dead battery in the middle of ANY day. Your car's battery supplies power to start your engine and provides reserve power for electrical systems, so it is vital that your vehicles battery is in great working condition. Unfortunately, any vehicles battery doesn't last forever. Full Throttle Auto Service will keep your vehicle reliable with convenient battery replacement and battery services near you!
Car Battery Facts -
A car battery typically lasts between three and five years before it needs to be replaced. Depleted batteries may need a boost frequently or might not have the amperage to start your engine in cold weather.
Routine battery services should be performed so your battery will last as long as possible. Whether it's battery terminal cleaning or topping up the electrolyte, routine maintenance should include battery servicing.
Quality Car Battery Replacement -
If your battery needs to be serviced or replaced, trust the experts at Full Throttle Auto Service. We offer every person who calls, and walks through our doors a 5-Star experience. At Full Throttle Auto Service, we do things different. We offer trust, convenience, and comfort. With years of experience in the automotive industry, our qualified mechanics are the right choice to make.
We use computerized diagnostic equipment to diagnose batteries and electrical systems for all makes and models. Our highly-qualified team will test your battery and provide expert advice on how best to remedy your symptoms. In many cases, all it takes is a simple battery replacement.
Need your car diagnosed because it won't start? Are there glitches in your electrical system? Or maybe you've been boosting your battery more and more often. We can help with accurate electrical testing and battery replacement.
If you're looking for another Auto Repair Service, then click here to take a look at what else we offer in Auto Repair. If you're not sure what is going on with your car, then call us and we will help!