A/C Service Special $199 for an R134A System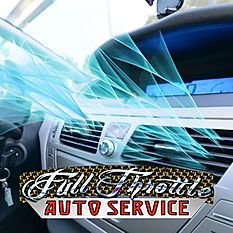 AC/HEATING SYSTEM CHECK-UP, SERVICE, & REPAIR
Your cars Air Conditioning and Heating System shares the same air ducts, controls, and blower unit. The A/C has its own refrigerant system, while the heat portion is a byproduct from the engine's combustion absorbed by the coolant in the radiator circulated through the heater core then back to the radiator. We offer a Pressure Test, and we will check for any leaks. Service includes a Partial Charge to proper level(s).
SIGNS YOU NEED CAR A/C REPAIR
Sometimes it's obvious that you should schedule an appointment...like if you've turned your car's A/C on but it still feels like a sauna in your vehicle. Other times, the warning signs might not be so clear. So, when should you book an appointment?
Your car's A/C might be on the way out if...
There's a strange smell coming from your A/C vents
You can't feel any air blowing, or the air doesn't get as cool as it used to
Your A/C is making funny noises
SIGNS YOUR CAR HEATER NEEDS REPAIR
If you turned your car's heater on ten minutes ago and you're still shivering, that's your first sign that something might be wrong. However, a few less obvious signs can also warn you that your heater is on thin ice.
Your car heater may need service if...
There's an unpleasant or foreign smell coming from the heater vents
The windshield and/or windows are fogging up
You can see antifreeze leaking in your car's interior (check the passenger side floor!)
Your car suddenly needs a ton of coolant
Noticing the signs of a failing heater before it actually breaks down can save you from a freezing commute and costly repair bill. If you notice any of these signs, it's time to book your appointment with the trusted technicians at Full Throttle Auto Service!
Request Your Appointment Today