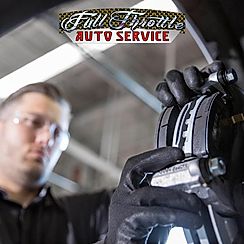 At Full Throttle Auto Service, we recognize that everyone's driving style is different. Properly functioning brakes will make the difference between stopping safely and a potential car accident. It is recommended to get your brake pads and rotors checked routinely. Brakes should last on an average 20,000 to 50,000 miles. Call us today to learn more about our brake services.
STARTING AT
$249
per axle*
BRAKE REPAIR - CHECK-UP, SERVICE & REPLACEMENT
Whether you have a standard brake system or a customized brake system, we can help you remain safe while driving your vehicle. We will service and, if needed, replace your brake pads or shoes, Hardware, Brake Booster, Disc's or Drum's, Master Cylinder, Wheel Cylinder's, Hoses, Brake Lines, etc. At Full Throttle Auto Service, we will perform a Full Brake Service, and speak with you about what is happening with your vehicle before performing any additional work.
Request Your Appointment Today
*Prices subject to change. Plus tax. See service shop for details. We always go off OE spec, if ceramic is required, then we must place ceramic.